Services
Multiple Free Wifi Signals
Breakfast included and to go
24 hr Airport pick up/drop off
24 hr reception/security
English speaking night staff
Credit cards accepted
Wake up calls
Print your tickets free
Luggage Storage
Dinner/wine service to room
Cable TV w/English channels
Heated indoor pool
Sauna
Free calls to USA/Canada
Private parking
Luggage Storage!
Baggage storage now available to both guests and non-guests. Bag pick up/drop off from airport also available. Prices vary.
See more
Hotel just 2 minutes from the Quito airport right next to the runway!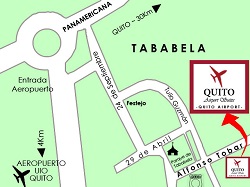 ~Why choose us as your hotel near the Quito Airport (UIO)?~
We are located inside the airport entrance just 2 minutes from the main terminal right on the main airport access road. With 24 hr receptionist and airport transfers we can make your short stay near the airport easy and enjoyable. All rooms have WiFi, Cable TV, and private bath. Credit cards accepted for no extra fee. Full dinner menu with vegetarian/spicy options every night. Multiple choices for your free breakfast with real (not instant) coffee. We also have a heated indoor pool and steam room, tennis court, hiking trails on-site and a fishing pond.