Services
Multiple Free Wifi Signals
Breakfast included and to go
24 hr Airport pick up/drop off
24 hr reception/security
English speaking night staff
Credit cards accepted
Wake up calls
Luggage Storage
Dinner/wine service to room
Heated pool
Private parking
Covid-19 Precautions!
We disinfect absolutely EVERYTHING between stays,
disinfect common areas, a contact-less check in/out, serve food to your room in one-use disposables and we have open-air rooms that open to the outdoors to avoid sharing hallways completely!
See more
Vegan food! 2 bedroom suites from $15 per person 5 Minutes from Quito airport!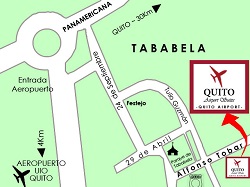 ~24 HR AIRPORT PICK UP / DROP OFF arranged after booking~
Vegan food options available, 2 bedroom 2 bath suites from $15 per person including taxes and breakfast with 24 hr receptionist and airport transfers we can make your short stay near the airport easy and enjoyable. All rooms have WiFi and private bath. Credit cards accepted for no extra fee. Full dinner order-in options like Indian, Chinese, Ecuadorian cuisine. Real (not instant) coffee. We also have a heated pool, and hiking trails.