Services
24 hr Airport pick up/drop off
Indoor, heated pool
24 hr receptionist
Indian food restaurant
Breakfasts included
Laundry service
24 hr reception on call
English speaking staff
Credit cards accepted
Luggage Storage
Hiking trails, tennis court, soccer field
Private High-speed Wifi
Private parking
Check in ANYTIME!
With a 24 hr receptionist and 24 hr driver, we can meet your needs for a safe, sound sleep next to the Quito airport!
See more
Hotel less than 5 minutes from the Quito Airport!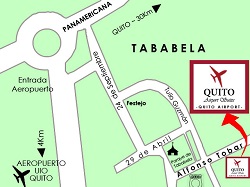 ~Lodging on 30 acres ACROSS from the UIO Quito Airport!~
Swim in our indoor, heated pool, hike on 30 acres of trails, enjoy our Indian food restaurant, all within 5 minutes of the main terminal at the Quito airport. Credit cards accepted for no extra fee. We also offer 24 hr transfers to and from the airport, baggage storage, laundry service and long-term parking options.