Location
We are located at the entrance of the Quito airport, across from the Customs building (Aduanas) just 5 minutes driving (as close as you can get!) to the new UIO Quito international airport in the small, Andean town directly next to the airport called Tababela which is also 45 minutes from the city of Quito, Ecuador.
Its best to call 0988899774 or email for a PICK UP from the airport on arrival or PREARRANGE the pick up by emailing us your flight info.  That way you dont have to explain to drivers who may get lost.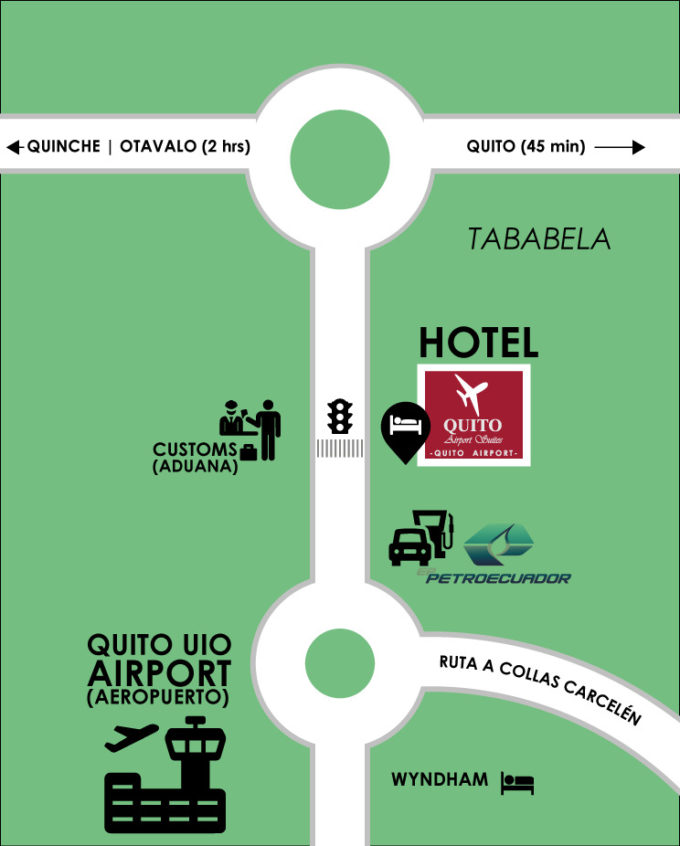 Our address:

E8-233 Conector Alpachaca diagonal a las aduanas, Tababela 170183, Ecuador
Airport pick ups ($8) and drop offs($5), prices not per person but per group, are available 24 hours a day upon request.
Or you can call 0988899774 once in the airport and we can pick you up for just $5 (per trip, not per person).
-or-
How to get here driving on your own or in a taxi?
Our address:

N8-233 Conector Alpachaca via al aeropuerto (Diagonal las aduanas), Tababela 170183, Ecuador
Its best to text us VIA WHATSAPP and we can send you the exact location pin if coming on your own 593-988899774.
Tell the taxi to take you to "Quito Airport Suites" which is DIAGONAL to the ADUANAS (Customs building) in Tababela on the main highway entering the airport.